Social Media Gift of the Week
I have the perfect gift this week for the social media lover in your life! Twitter is auctioning off autographed bottles of their wine. Fledgling is Twitter's very own wine, and the label even has the bird on there to prove it!
If that's not reason enough to purchase a bottle, here are 2 more!
You also win face time with Twitter co-founder, Biz Stone.
The money raised in the auction goes to a literacy program in India.
After you're the highest bidder, you can wrap your honey's bottle of wine in this awesome QRapping paper! Each QR code gives you an additional gift of providing the receiver with a viral video! I would be in heaven!!
An App That Saves
I've been looking for an old Polaroid camera for almost a year now. I loved the anticipation of waiting for the image to dry, the white border and the extra space at the bottom for writing notes. I've had no success in finding one and the new version for sale at Polaroid.com is $90!
But a smart phone app has come to save Polaroid and me by providing the same feel to your mobile pictures! Not only do you get the pretty white border and ability to add a personalize message but you can shake the photo in order for it to "develop."
What other fun things from the past could we create an application for? Snap bracelets, anyone?
I Don't Want to Grow up, I Want to Be an Apple Kid (Gift of the Week)!
Children's toys have definitely changed since I was growing up! No longer do I see kids playing with Lincoln Logs or little girls carrying around Cabbage Patch Kids. I feel like every new toy I see is some sort of miniature computer system.
All the stuffed animals now have chips in them to talk and dance. Most children have their "My 1st laptop" by the age of 2 and have already learned to carry their parents' cell phones around at all times!
I do not have kids yet of my own but I am the godmother of two beautiful little girls and I've found some great gifts for them thanks to Mashable.  The Woogie is a fun iPhone protective case with a screen protector and built in speakers!
Will you be getting any of these cool gadgets for your little ones this Christmas?
Election Day is More Like Social Media Day
I'm sure like many American's you woke up today and went to vote. Today is the all-important Election Day, and social media sites were all abuzz about the elections, as well.
Facebook had a ticker on the News Feed page, counting the number of people who voted. Twitter's trending topics were all election hashtags, such as #ivoted!, #govote and #electionday. I think it's truly amazing to see the amount of people caring about their country enough to go out and vote for the candidate they want and trust.
Social media seems to be the new wave of politics, and connecting with your senator or governor via Facebook looks like the new norm. Check out this excellent article from Mashable and Gist on why social media is changing the face of politics.
Tailgate Domination
My fellow football fanatics understand that the tailgate is just as important as the game itself. You want to have plenty of variety, something for everyone, and you want the food to be substantial in order to stay full during the whole game. I realized quickly that the best food to do this was the heavenly avocado!
My family makes homemade guacamole for every game but Hass Avocados are letting football fans know you can make more than guac with this healthy fruit! They are putting together a contest for interesting tailgate recipes using their avocados and employing social media to promote it. You can submit your recipes on their website, through a blog or in a video. The winner will receive four tickets to The Rose Bowl!
Studying Made Easy
For those of you who've already taken the SAT, be prepared to be jealous! I remember taking the six-week Kaplan course and the endless hours of studying on weekends when all I wanted to do was go hang out with friends. Now Kaplan and gaming company Aspyr Media have taken SAT prep to your iPhone and iPad!
They cover the three basics — reading, writing and math — and it's all in a gaming format. What's next? College via iPad?
Ditch the Textbooks
The University of Leeds will be giving all fourth and fifth year medical students an iPhone this year. These phones will not only be used as a beeper when on-call but also as a learning device.
The phones will be pre-loaded with helpful medical and textbook applications and the students will also have unlimited broadband connectivity.
Is this the new wave of higher education tools?
The Paid Tweet
Twitter has been experimenting with promotional tweets and they seem to be doing pretty well. They are seeing interaction from other Twitter users and companies are coming back to buy more.
The Wall Street Journal is speculating that some companies like Coca-Cola and Virgin America are spending up to $100,000 on these ad-like tweets.
Do you think this is a good idea for Twitter, and if you have a small business would you consider promoted tweets as an advertising tool if cost was reasonable?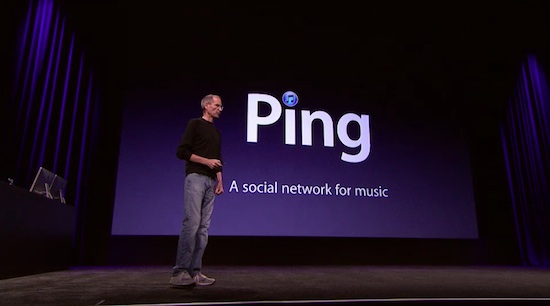 To Ping or Not to Ping
Last week Apple made several announcements about new iPods, hardware and new versions of iOS but the most talked about was the introduction of Ping. Ping is a new music-inspired social network.
The new social network allows music lovers to follow their favorite artists, get live musical updates and create networks with like-minded people. Ping will also allow users to see who their friends like and what their favorite genre of music is.
This is exactly what music enthusiasts, like me, need and want. I listen to Pandora every day and love the way that it knows I like Muse, Taylor Swift and John Mayer all in the same playlist. The problem is that I want to socialize with people who like those artists as well and then wrack their brains to find other artists to check out.
That is what Ping is attempting to do and I think it has great potential! They have just surpassed one million users; will you be next to join?
Those Pesky Error Messages
Ever have one of those days when you wake up and you stub your toe the second you get out of bed? And then you run out of toothpaste and your hair just won't do right, so you're late for work and then you finally get to work and the website you go to has one of those "404 Not Found" pages! AHHH, (insert scream, curse word or loud groan)
This day happens to everyone and it's basically just known as a bad day. Bad days appear to have no end but they do make you appreciate those really good days. The next time you're having a bad day, look at these humorous 404 error pages provided by Mashable. They might even make your bad day turn good!
Learn Something New
I definitely learn something new every day and that is the most brilliant and amazing part of my job. Sometimes learning the simplest of things can make you the happiest. Two weeks ago while I was on vacation I was complaining to my best friend that I never know when an opponent has made a move in Wordfeud, so our games last days.
This is when I discovered push notifications on smart phones! Why was I not told about this sooner? If you are like me and haven't heard of a push notification, it's a settings option that allows you to receive an alert to any of your phone applications.
I am obsessed with push notifications now and my phone is a buzz every second but it excites me! Twitter's new official app for the iPhone and iPad is about to release their push notification and I am just jealous that I won't be able to get it (Android lover here).
Make It Snappy!
Now a days we're always looking for the fastest way to do, well ,everything. There are a few things though that should be fast and just aren't. My favorite example is that I am notorious for texting while doing a million other actions. I always look down after typing a whole sentence and realize I have messed words up and have to press the delete key for what seems like forever to make the corrections. Mashable released a handy list today of keyboard shortcuts and they really do save time. I don't have an iPhone but got to check out the shortcuts on a friend's phone and now I am jealous!
Nationwide Groupon
If you're anything like me, you wake up in the morning, brush your teeth and then check your inbox for your morning Groupon. The social buying company has only been in Charleston a few weeks, and it's already part of my morning routine. Last Thursday I was surprised and stoked to see that the coupon was for the Gap! This is the first time that a nationwide retailer has done a Groupon and by 2 p.m. they had already sold 250,000 Groupons! Sounds like a success to me, what do you think?
Foursquare/Places Update
Everyone in the social media world and beyond has been talking about the new Facebook Places. I have said a few times that my main concern is what does this mean for Foursquare?  Looking at the many articles on Mashable, MediaPost and Marketing Daily, that's on the top of lots of people's minds, but what does Foursquare CEO Dennis Crowley think?
In an interview last week, he explains what Foursquare will do to compete in the location market and what their plans are for the future.  Do you think Facebook will take over the location game or could this be another David and Goliath story?
We had such a great time last night celebrating Social Media Day at Taco Boy in downtown Charleston. Thank you to all who came out – it's always great to meet other social media enthusiasts! We even picked up some new information about what's coming from Google, app development and how to "bump."
Even with our group divided – iPhones on one side and Androids on the other – we all came together as a social media family. Hope to see you at our next social media event.
Startup alert! Eventbrite is a provider of online event management and ticketing services. They help anyone from the 10-person Pilates class to the outdoor music festival Bonnaroo! Watch this video to meet co-founders, Julia and Kevin Hart, and their marketing director, Tamara Mendelsohn.
Planning on camping out in front of the AT&T stores tonight to be the first to hold the new iPhone 4 in your hands? Well, don't waste your time because the actual AT&T stores won't have them in their stores until June, 29. If you were unable to pre-order and can't wait until next Tuesday you can try camping out at your local Apple store!
With all the bad press that Mark Zuckerberg and Facebook have gotten this past month, it's nice to hear a few good things about the social media phenomenon. Check out this article on the 3 things that Facebook does really well (hint: privacy is not one of them).
Will you be watching France vs. Mexico in the World Cup on ESPN2? Even if you aren't able to take off work for this 2 p.m. game, check out this NPR story that discusses the impact the World Cup has had on social media.
If you're a wino then you have to check out vinyou! It's an online event venue for wine lovers that locates wine tastings in your area and gives you the opportunity to post your own wine tastings.
The iPhone 4 will be coming out next week, but it's becoming more and more difficult to preorder. The large number of customers eager to get their hands on this new smart phone has overwhelmed Apple and AT&T. Anyone planning on getting the iPhone 4? Who WANTS to get the iPhone 4?
Meet our very first Step Ahead Social Media Star: Stacey Crew, organizing expert, author and speaker. Stacey, whom I met many years ago through a friend of mine and who is based in Charleston, S.C., helps moms-to-be, new moms and generally busy women organize their time and space. Her book, The Organized Mom, will hit bookstores nationally in 2009.
Stacey is very active on all the main tools, but has also networked herself well within niche social networks like Girlfriendology, The Integrated Mother, Posh Mama, Twitter Moms, and the Mom Bloggers Club where she has developed a following of moms who look for her seasoned advice on keeping our lives together! Here is what Stacey had to say about social media:
What was the first social media technology you used?
Facebook
What is your favorite social media tool?
Facebook, then Twitter
How has social media benefited your business?
Social media tools have helped me keep my followers informed of blog posts, Web site updates, and general information that I'd like to share—all in a very simple way! Anyone who has been following me, knows that getting a book published is a long process.
How much time would you say you spend a day engaging social media?
1 hour
How do you incorporate it into your day?
Sometimes I schedule it. For example, if I've made specific blog entries, I'll post that on my Facebook page and on Twitter. Or if I've made changes/updates to my web site, I'll do the same. Essentially, while working, I'm always connected to Facebook and Twitter, but try and use the time wisely so it's not all of a sudden the end of the day and I haven't completed my To Do List.
What's your best social media tip?
Be yourself. People don't want to feel like you're all business or all personal, so find a balance. In my market (moms, essentially), I mention my kids and post pictures. Keep it real, but maintain your position as an expert in your field. It's like walking a tight rope sometimes.
Is there a social media tool/technique that you think is
underutilized that you would like people to know about.
Well, I suspect the iPhone technology. I'm waiting for my new iPhone to arrive and once it does, I think I will be saying, "How did I ever live without it." I'll be providing tech tips on my web site for the iPhone and other technology and social media tools. We've entered a time when we can truly be more effective and efficient with technology.
Where can people find you online?
www.staceycrew.com, staceycrew.blogspot.com, Facebook and @staceycrew on Twitter.
Anything else you'd like to add?
Everyone should analyze how technology can and does work for them, whether it's personally and/or professionally. Facebook is a great tool for staying in touch with both family and friends, but it also serves a purpose as a business tool. Twitter, on the other hand, is a fabulous tool for networking outside your local venue. If one is attempting to reach a national audience (like myself), Twitter can get you connected to people far and wide. Just remember to follow Twitter etiquette!