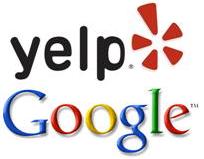 Google has never shied away from taking on other companies. Since inception, when Google supplied the search results for Yahoo, and then turned around and beat Yahoo at its own game, through the 'email wars' with Yahoo and Microsoft, to taking on Apple with its own phone(s).
And I think we can now add Yelp to the list.
It was widely reported that last month Yelp wallked away from a Google buy out, an almost done deal worth $550+million. Google seems to have responsed to this snub by stepping up the quality of its own local Place Pages.
I've mentioned Google Local pages on here before, but as with all things Google, they never stay still for very long. Besides the existing features, such as photos, maps, coupons and hours, Google has introduced their own ranking system, with rankings based on aggregating comments on sites such as TripAdvisor, Kudzu and Igougo.
For instance, here's the page for one of our clients in Charleston, Circa 1886 restaurant. Under the heading 'What people are saying about' you can read the comments, divided up into categories,  service, meal, staff, atmosphere and wine list, alongside a colored bar similar to the PageRank bar:
(click to enlarge)
and selecting one of the topics will show you more details and comments about that aspect.
More worryingly for Yelp, NextStop and others, Google has also released an iPhone/Android app (with good reviews), Near Me Now, which allows users to see what is nearby, and pulls inthe Place Pages data too.
Of course, Google has had its own notable failures too – Paypal is still a lot more popular than Google Checkout, Orkut has quiet some way to go to dethrone Facebook as King of the Internet, and Craigslist/Ebay are still casting a snooty eye over the upstart that is Google Base.
So what do you think? Has Google made a useful product? Is this it for Yelp? Let us know your thoughts in the comments.
It has been almost 4 years since Google launched the Google Local Business Center, but it still amazes me that many businesses, small business in particular, and not taking any steps to boost their profile here.
Considering that for many searches now, there are 10 Google Local results listed before the rest of the results, see here for example,  it seems that far too many people are ignoring this huge potential source of traffic. Free traffic, no less!
So, if you're one and you don't know where to begin, here's a few tips to get you started:
Find or Add Your Site.
Head over to http://www.google.com/local/add and sign in with your Google Account info. Click Add New Business, and start completing the info – name, address, etc.
Once you click Next, you may well find that your business is already listed. Just click Claim Listing. If it's not there, select Add New Listing instead.
Take Control.
Obviously you don't want just anyone to be able to change your listing information, so Google has a couple of ways to verify that you have the right to edit this account. By far the easiest is the phone method. If you are sitting by the work phone, Google will give you a PIN on the screen, and then call you at the phone number they have. Enter the PIN and you're all set.
If that's not possible the alternative is to have them mail you a postcard with the PIN. This can take a couple of weeks.
It is worth telling everyone in the office to keep an eye out for this card. It's easily mistaken for junk mail and tossed, which will require you to start again.
Build Out Your Listing.
This isn't the Yellow Pages. It doesn't cost you any extra to make your listing an all-singing, all dancing ad that shows off how great your company is. You can add up to 10 photos, so do so – not just a logo, but anything else that you think may help. Put in your office hours, types of payments accepted, even add in up to 5 Youtube videos. Really take some time and add in all the bells and whistles that you can.
Monitor the Results.
As well as seeing the traffic on your website analytics reports, Google also provides rolling stats of the last 30 days, with the number of impressions and clicks that your listing generated. You might very well be amazed at just how much traffic is now coming your way. As an added bonus they even offer the ability to show coupons. These are branded with the Google logo and a bar code so when your customer requests their free cup of coffee with any sandwich/car wax with any full service wash/website evaluation/whatever, you'll know just where they came from.
Have you had any success with Google Local? Please let us know.