Walking into the Apple Store several months ago, I was amazed at how easy it was to check out. The sales guy reached into his back pocket, pulled out a handheld device and took my credit card payment right there, no waiting in a line or anything. As convenient as it was that day in Apple, I'm amazed at how far mobile payments have come in the last year.
You can now buy an attachment for your iPhone and swipe your credit card through your phone to make a payment. Banks are now working extremely hard to be the first to perfect the mobile deposit, and it leaves me wondering, is this more creepy than convenient?
There've been several stories about Android and Apple smart phones keeping screenshots of sites that you visit on your phone and the chances of the phone memory keeping a screen shot of your bank password is high. But the CEO of eBay, John Donahoe says that paying via a mobile device is by far the safest way to pay. Donahoe suggests that no financial information is stored in your phone and all your financial information is stored in your wallet.
I feel there's always instant resistance to any new technology that completely changes the way we do daily tasks. That's probably why my initial reaction was creepy, but after all, everyone is looking for convenience, so I say oversized wallets (especially for women) are out and mobile payments are in!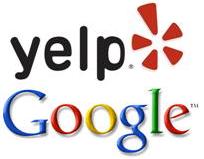 Google has never shied away from taking on other companies. Since inception, when Google supplied the search results for Yahoo, and then turned around and beat Yahoo at its own game, through the 'email wars' with Yahoo and Microsoft, to taking on Apple with its own phone(s).
And I think we can now add Yelp to the list.
It was widely reported that last month Yelp wallked away from a Google buy out, an almost done deal worth $550+million. Google seems to have responsed to this snub by stepping up the quality of its own local Place Pages.
I've mentioned Google Local pages on here before, but as with all things Google, they never stay still for very long. Besides the existing features, such as photos, maps, coupons and hours, Google has introduced their own ranking system, with rankings based on aggregating comments on sites such as TripAdvisor, Kudzu and Igougo.
For instance, here's the page for one of our clients in Charleston, Circa 1886 restaurant. Under the heading 'What people are saying about' you can read the comments, divided up into categories,  service, meal, staff, atmosphere and wine list, alongside a colored bar similar to the PageRank bar:
(click to enlarge)
and selecting one of the topics will show you more details and comments about that aspect.
More worryingly for Yelp, NextStop and others, Google has also released an iPhone/Android app (with good reviews), Near Me Now, which allows users to see what is nearby, and pulls inthe Place Pages data too.
Of course, Google has had its own notable failures too – Paypal is still a lot more popular than Google Checkout, Orkut has quiet some way to go to dethrone Facebook as King of the Internet, and Craigslist/Ebay are still casting a snooty eye over the upstart that is Google Base.
So what do you think? Has Google made a useful product? Is this it for Yelp? Let us know your thoughts in the comments.