Lyn: "Where We're Headed"
This is always one of my favorite topics, as in the world of social media this is an ever-changing ever-evolving target. Certainly the two trends that emerged in 2010 that I think/hope will gain popularity in 2011 are location based tools and social buying.
Location
Foursquare, Gowalla, SCVNGR, Yelp and the like are all tools that allow you to "check in" wherever you are via your smartphone. I think it's an amazingly powerful marketing tool for businesses who want you to come to their location. You can offer deals to people for checking in, encouraging them to promote your business to their friends, follow them on Twitter so you capture them forever and help drive traffic to your location during slow periods. One of the best tools I've ever seen for driving traffic. I think as soon as the discount shoppers realize that they can cash in on special deals just by checking in, more businesses will offer deals and off it will take…
Social Buying
Do I need to say anymore than Google offered 6 billion to buy Groupon? That speaks volumes. However, despite that some people think this is just a trend that will die away. Do I think so? I think if this industry can keep focused on the one deal a day concept and not overload us with all kinds of different deals that dilute the offers and confuse, they've got a good deal going J! However, if it becomes overwhelming and cumbersome, they're dead in the water. We'll see…
Bailey - "It's All About Mobile"
I hate to admit this, but my brain doesn't work well when it comes to predictions. My hesitation in disclosing this is due to the fact that people who predict what will be next are usually the ones who create some of the most amazing technologies, companies or products. My brain wants to take concepts that are popular now and perfect them, so that's how I'll approach the future of social media.
It's all about the mobile! I read recently that soon more smart phones will be bought than laptops and that made my jaw drop. Although I am surprised by this, it does make sense, as we do so much on our mobile device. We're telling our friends where we are, making payments, playing games and downloading every app imaginable all on our mobile devices.
Mobile platforms are growing so popular that the new Apple Operating System will be app based, making our iMac or Macbooks look like our phones. My point here is that there's so much room for growth in this mobile world, and that is our future.
All companies having a mobile website or mobile app, companies expanding their marketing campaigns to include using mobile games and all retail stores taking mobile payments is where the future is. I personally can't wait to see what all is in store for mobile and how it affects social media!
I recently was asked to write an article for the Hoosier PRSA (Public Relations Society of America) enewsletter to help PR professionals get a better grasp of geolocation services like Foursquare, Gowalla and Facebook Places this year.
Check out my article to learn what you need to know about these tools in 2011 for marketing your business.
Are you looking to save money this holiday season? Who isn't?! Well, don't forget about social media as a great tool to save you some bucks on your holiday gift list.
In this week's TwitterMoms.com post, I've got 7 ways you can score some deals using social media tools like blogs, Facebook, Foursquare and more. Read on!
As much as I hate to admit it because of my undying devotion to Foursquare, there are a couple emerging geo-location apps that I kind of like…
This week's TwitterMoms blog post explores the geo-location world beyond Foursquare and offers up a couple tools I think could give our favorite check in app a run for their money. Read on and tell me if you'd be willing to use one of these services instead of or addition to Foursquare down the road.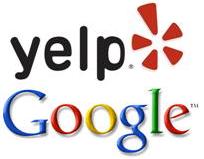 Google has never shied away from taking on other companies. Since inception, when Google supplied the search results for Yahoo, and then turned around and beat Yahoo at its own game, through the 'email wars' with Yahoo and Microsoft, to taking on Apple with its own phone(s).
And I think we can now add Yelp to the list.
It was widely reported that last month Yelp wallked away from a Google buy out, an almost done deal worth $550+million. Google seems to have responsed to this snub by stepping up the quality of its own local Place Pages.
I've mentioned Google Local pages on here before, but as with all things Google, they never stay still for very long. Besides the existing features, such as photos, maps, coupons and hours, Google has introduced their own ranking system, with rankings based on aggregating comments on sites such as TripAdvisor, Kudzu and Igougo.
For instance, here's the page for one of our clients in Charleston, Circa 1886 restaurant. Under the heading 'What people are saying about' you can read the comments, divided up into categories,  service, meal, staff, atmosphere and wine list, alongside a colored bar similar to the PageRank bar:
(click to enlarge)
and selecting one of the topics will show you more details and comments about that aspect.
More worryingly for Yelp, NextStop and others, Google has also released an iPhone/Android app (with good reviews), Near Me Now, which allows users to see what is nearby, and pulls inthe Place Pages data too.
Of course, Google has had its own notable failures too – Paypal is still a lot more popular than Google Checkout, Orkut has quiet some way to go to dethrone Facebook as King of the Internet, and Craigslist/Ebay are still casting a snooty eye over the upstart that is Google Base.
So what do you think? Has Google made a useful product? Is this it for Yelp? Let us know your thoughts in the comments.